Ginger Liqueur

Mattie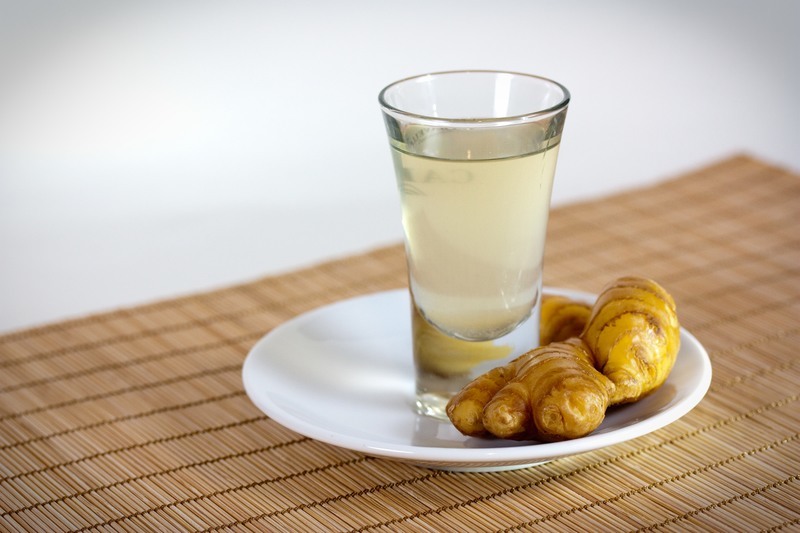 The great thing about this Ginger Liqueur recipe is that you can justify drinking it to warm you up during the dead of winter or to refresh you in that dreaded summer heat. This tastes similar to
Limoncello
but it's got the zing of ginger which compliments really well with a high quality, clean tasting vodka. Enjoy it by itself, mixed with soda water or drizzled over vegan ice cream.
Ginger Liqueur Recipe
¼ cup grated ginger 750 ml vodka
1/3 cup (78 ml) filtered water
½ cup (100 g) granulated white sugar
1) Steep the ginger in the vodka then strain out the ginger
Grate the ginger and place it in a ½ gallon glass container. Add the vodka to the container. Let the container sit in a cool, dark place for two weeks. After two weeks, strain out the grated ginger. This can be done by using a cotton coffee filter placed in a funnel that is placed over a bottle.
2) Prepare the sugar water mixture
After two weeks has passed, whisk together the water and sugar in a medium sauce pan on medium heat until the sugar is dissolved.
3) Add the sugar water to the vodka and age to perfection
Add the sugar water to the ½ gallon glass container, close the lid tightly and give it a shake. Keep in a cool, dark place for at least two more weeks. The longer you age it, the smoother it becomes. Store it in the freezer where it will keep for at least a couple years. Enjoy it cold.
This recipe makes about 1 Liter of Ginger Liqueur.
User reviews
gouttiere
alimentation
jadore cette recette de chez gary de [url=https://gouttierestjerome.ca]Gouttiere St-Jerome[/url]
Was this review helpful to you?