Limoncello

Mattie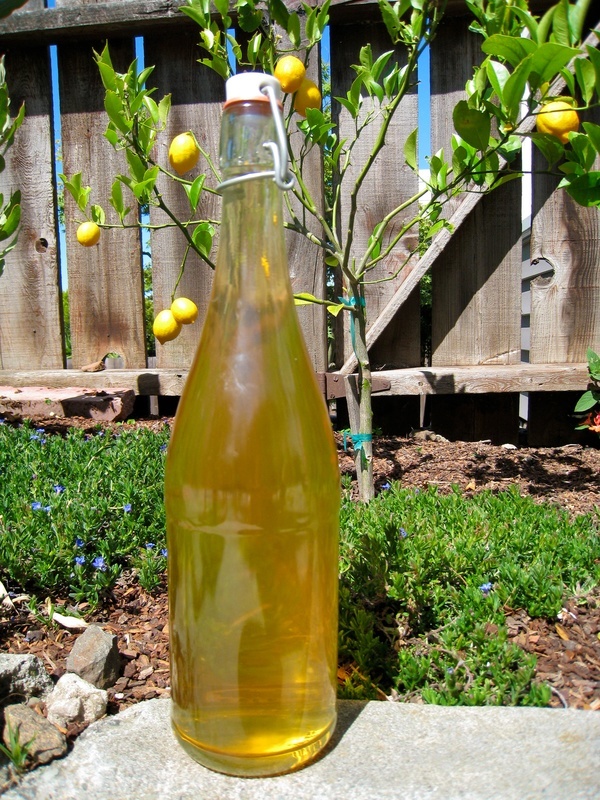 Popular in Italy, Limoncello is a lemon liqueur that's made by mixing lemon zest and sugar with a clean, distilled alcohol. It's amazing by itself, mixed with soda water, or drizzled over vegan vanilla ice cream. Unlike the traditional drink, this limoncello recipe is a little less sweet and syrupy and a little higher in alcohol and lemon flavor. I designed this Limoncello this way because I find traditional Italian Limoncellos to be too cloyingly sweet and syrupy to drink neat which is the way I prefer to drink liqueurs. This Limoncello is always a hit when it's brewed in larger batches, bottled into smaller bottles and given to friends at holiday gatherings.
Limoncello Recipe
10 unwaxed organic lemons
750 ml vodka
1/3 cup (78 ml) filtered water
½ cup (100 g) granulated white sugar
1) Zest your lemons and add the zest to a container with vodka
Zest the lemons and transfer the zest into a ½ gallon glass container. Using organic lemons here is important because non-organic lemon rinds can contain lots of pesticide residues. Add the vodka to the container. Let the container sit in a cool, dark place for two weeks. After two weeks, strain out the lemon zest. This can be done by using a cotton coffee filter placed in a funnel that is placed over a bottle.
2) Prepare the sugar water mixture
After two weeks have passed, whisk together the water and sugar in a medium sauce pan on medium heat until the sugar has dissolved.
3) Transfer the sugar water to the vodka and age to perfection
Add the sugar water to the ½ gallon glass container, close the lid tightly and give it a shake. Keep in a cool, dark place for at least two more weeks. The longer you age it, the smoother it becomes. Store it in the freezer where it will keep for at least a couple years. Enjoy it cold. Makes about 1 liter of Limoncello.
User reviews
Jennifer N
Vodka
What type of vodka do you recommend for making your liquors? I have a friend making some Limoncello with whatever cheapest vodka he can find. He likes it.. I think it taste like Lemon Dawn.
Was this review helpful to you?