Peach Liqueur

Mattie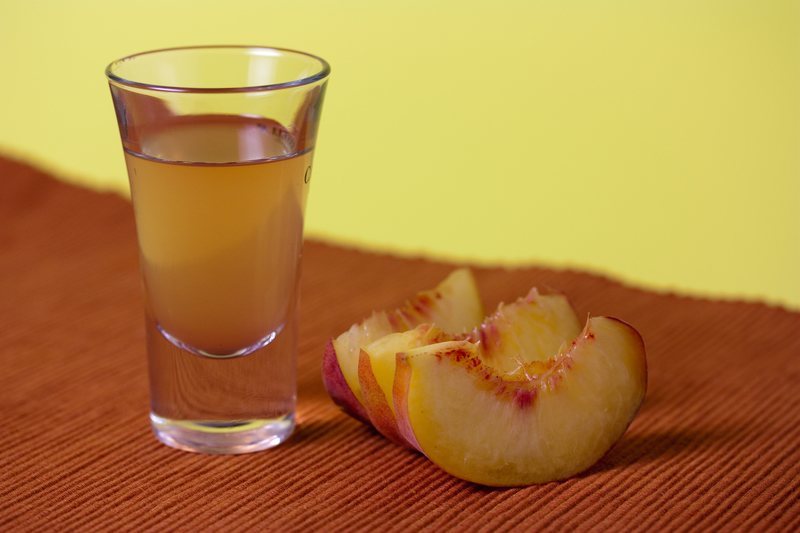 Every summer I savor sweet succulent peaches which is my favorite fruit. I often wonder how I could possibly preserve their bright, fresh flavors so I can enjoy them all year round. I've figured it out and the secret is this Peach Liqueur recipe. You can enjoy it in front of the fire on a cold winter night or on a hot summer afternoon mixed with some ice cold soda water. It's like biting into a fresh peach which is great either way.
Peach Liqueur Recipe
2 pounds (.9 kg) peaches
750 ml vodka
¼ cup + 2 Tablespoons (75 g) granulated white sugar
¼ cup (59 ml) water
1) Slice the peaches and add them to vodka
Remove the stones from the peaches but cutting around the diameter then twisting the halves apart. Cut the halves into ¼ inch slices and add them to a ½ gallon glass container. Add the vodka, close the lid tightly and give it a shake.
2) Strain out the peaches
Stir the mixture daily and strain out the peaches after one week. This can be done using a cheesecloth placed in a colander. Discard the peaches.
3) Prepare a sugar water mixture, add it to the vodka and age to perfection
In a small saucepan whisk together the sugar and water constantly over medium heat until the sugar is dissolved. Stir it into the peach vodka mixture. Bottle and age at least two weeks so the liqueur gets a chance to mellow out. The longer you age it, the smoother it becomes. Store it in the freezer where it will keep for at least a couple years. Enjoy it cold. Makes about 1 liter of Peach Liqueur.
User reviews
There are no user reviews for this listing.