Strawberry Rhubarb Liqueur

Mattie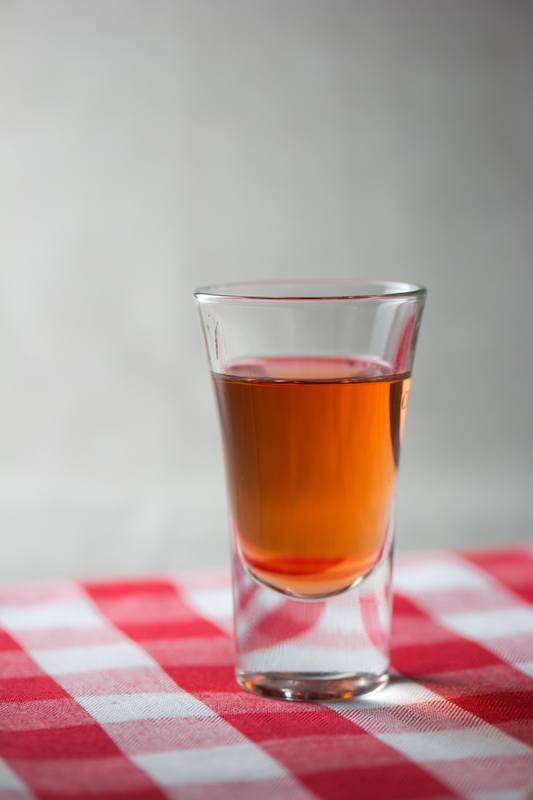 This liqueur is a great way to preserve the essence of strawberries so they can be enjoyed year-round in new and tasty ways. The perfect amount of orange zest unifies the tartness of rhubarb with the strawberries in this sweet liqueur which can be drizzled on vanilla ice cream, baked into cakes, pies or just enjoyed on its own. It's like strawberry rhubarb pie in a glass. Swirl it into an icy glass of soda water for a refreshing summer treat.
Strawberry Rhubarb Liqueur Recipe
1 ½ pounds (.7 kg) fresh strawberries
3 ounces (85 g) rhubarb
750 ml vodka
zest from 1 orange
¼ cup + 2 Tablespoons (75 g) granulated white sugar
¼ cup (59 ml) water
1) Chop the strawberries, rhubarb and add them, along with the orange zest, to a container of vodka
Wash the strawberries and rhubarb and remove the tops from the strawberries. Cut the strawberries and rhubarb into ¼ inch slices and add them to a ½ gallon glass container. Add the vodka, orange zest, close the lid tightly and give it a shake.
2) Strain out the solids
Stir the mixture daily and strain out the rhubarb, strawberries and rhubarb after four days. This can be done using a fine mesh cheesecloth placed in a colander. Discard the solids.
3) Prepare a sugar mixture and add it to the mixture before aging to perfection
In a small saucepan whisk together the sugar and water constantly over medium heat until the sugar is dissolved. Stir it into the peach vodka mixture. Bottle and age at least two weeks so the liqueur gets a chance to mellow out. The more it ages, the smoother it becomes. Store it in the freezer where it will keep for at least a couple years. Enjoy it cold. Makes about 1 Liter of Strawberry Rhubarb Liqueur.
User reviews
There are no user reviews for this listing.