Warning
JLIB_APPLICATION_ERROR_COMPONENT_NOT_LOADING
2 results - showing 1 - 2

Mattie
0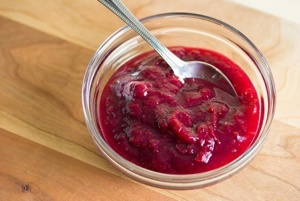 Cranberry sauce is one of the easiest, most foolproof sauces to make. You just throw a bunch of cranberries in a saucepan, cover it with some sugar, orange zest and, if you want to kick it up an extra notch, add some cinnamon or ginger. Let it simmer until the cranberries pop and then some, and you're mostly done.
The reality is that every Holiday season I'm slogging through preparing the food I'm planning to share, always biting off a little more than I can chew, so to speak. I get to a point of where I think I'm done with everything and wait, what?! The cranberry sauce? I forgot to make it! So it's back into the kitchen to bang it out.
I'm a huge fan of preparing large food projects in sections beforehand, then plugging them all together to make the final dishes as the feast approaches. I've found that this reduces Holiday cooking stress considerably. Last year this got me thinking: what if I could apply this trick to the cranberry sauce I'm always forgetting about? What if I could make it way in advance with even less overall time involved?
Pressure cooker
to the rescue. With the pressure cooker, I could make it a year ahead with the extra cranberries I had hanging around from
this
year, chuck it in the closet and forget about it until the end of
next
year. All with the same amount of effort it takes to make cranberry sauce a few days before the Holidays. No really.

Mattie
0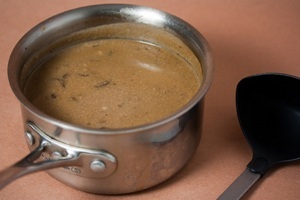 This Gracious Vegan Gravy recipe uses almost every trick in the book to develop rich, complex, savory flavors for a result that's sure to impress and surprise even the most diehard carnivores. First, both flour and nutritional yeast flakes are toasted, bringing out their nuttiness. Onions are then caramelized with mushrooms, breaking out layers and layers of savoriness. Miso and garlic are added later to add another dimension and tie it all together. Then the whole mixture is simmered so the flour gelatinizes and thickens the mixture. It's finished with pepper and a dash of white wine vinegar. A perfect way to top off a vegetarian feast centerpiece like
Stuffed Seitan
.
2 results - showing 1 - 2