Gracious Vegan Gravy

Mattie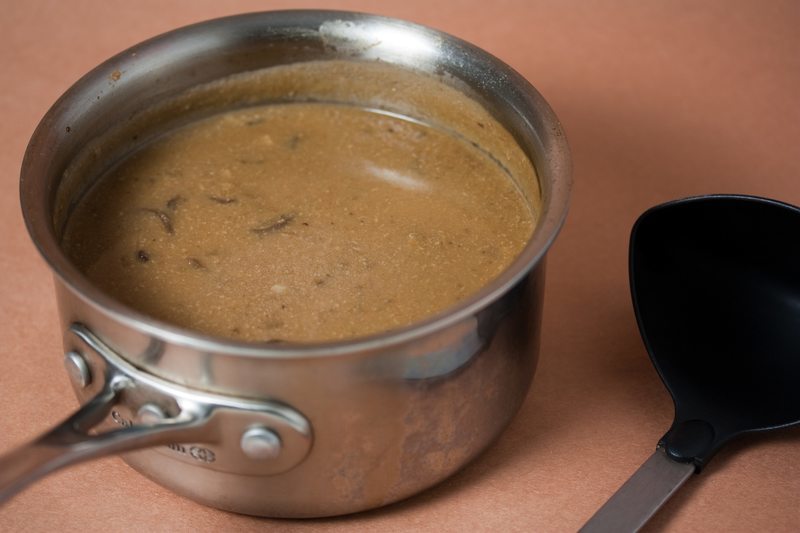 This Gracious Vegan Gravy recipe uses almost every trick in the book to develop rich, complex, savory flavors for a result that's sure to impress and surprise even the most diehard carnivores. First, both flour and nutritional yeast flakes are toasted, bringing out their nuttiness. Onions are then caramelized with mushrooms, breaking out layers and layers of savoriness. Miso and garlic are added later to add another dimension and tie it all together. Then the whole mixture is simmered so the flour gelatinizes and thickens the mixture. It's finished with pepper and a dash of white wine vinegar. A perfect way to top off a vegetarian feast centerpiece like
Stuffed Seitan
.
Gracious Vegan Gravy Recipe
¼ cup (32 g) whole wheat flour (or millet flour for a gluten-free option)
¼ cup (26 g) nutritional yeast flakes
5 Tablespoons (74 mL) olive oil
3 ounces (85 grams or about 8 fresh mushrooms or 15 grams dried) shiitake, cremini or baby portobello mushrooms, thinly sliced
1 red onion, thinly sliced
2 Tablespoons (30 mL) shiro miso
1 ¼ teaspoons (7 grams) salt
1 clove garlic, minced
¼ teaspoon (.5 g) ground pepper
3 cups (710 ml) vegetable stock or water

1 teaspoon (5 ml) white wine vinegar
¼ teaspoon liquid smoke (optional)
1) Toast the flour and nutritional yeast flakes
Place the flour and the nutritional yeast flakes in large skillet and toast them over medium heat while stirring frequently. Do this for a few minutes until the mixture is slightly golden.
2) Sauté the mushrooms and red onion
In a medium saucepan heat up the olive oil until it's hot. Add the mushrooms, onion, miso and salt and saute for about 10 minutes. The onions should be translucent and the mushrooms should be tender. Add the garlic and saute for an additional 4 minutes. Remove from heat and slowly stir in the pepper, flour and nutritional yeast flakes, mixing it together until it becomes a thick paste-like consistency.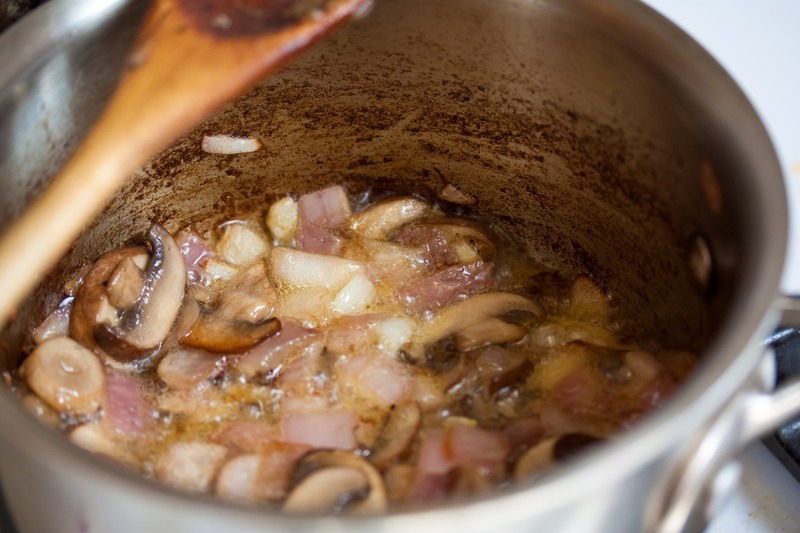 3) Build the vegan gravy
Slowly whisk in the water a little at a time until everything becomes well mixed and there are no lumps. Bring the mixture to a boil then reduce heat and simmer until the sauce is thickened, stirring often. Whisk in the white wine vinegar and liquid smoke if using. Keep the gravy in a covered container in the refrigerator for up to 1 week or in the freezer for up to 3 months. This recipe makes about 4 cups (946 ml) of Gracious Vegan Gravy.
User reviews
ChocoholicPhilosopher
Excellent gravy
Followed the recipe exactly, and very happy with the results
Was this review helpful to you?
Rani
Well done
Dude, what to say ? Great ideas , great tricks , well done , keep it up
Was this review helpful to you?
Poetica
Gravy extraordinaire
Coming only recently to all things vegan, I was dubious anyone could make delicious gravy without meat. I was wrong. This gravy is so tasty I was completely satisfied. The browned nutritional yeast and flour I think is the silver bullet!
Was this review helpful to you?