Warning
JLIB_APPLICATION_ERROR_COMPONENT_NOT_LOADING
7 results - showing 1 - 7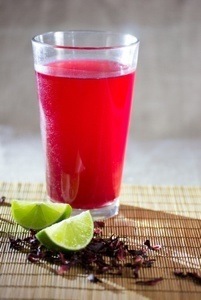 While designing the beers and finally crafting the wine to have on tap for my wedding, I realized that in order to round out a good drink list, a capable non-alcoholic drink would definitely be in order. I plan on having a saison, a sour beer, a gluten-free double IPA, and sangiovese on tap. It would practically be disrespectful to not have a non-alcoholic option to stand up to this selection. Can you imagine how frustrating it would be to be a designated driver at a wedding? I mean, let's be honest! This is why I just had to devise something truly interesting in the alcohol-free department. But what? My goal was to concoct something that the sober drinker would be thrilled to drink all day and not feel like they were missing out. In order to pull this off, I'd need an elixir that fits this criteria:
Fruit-forwardness, bright acidity and a little residual sweetness for a well-rounded flavor.
Crisp and refreshing on a hot day.
Intense enough to thrill, but subtle enough to session, or drink all day. I want people to come back for more like when you just can't stop drinking that beaujolais you opened on that hot summer day.
Consistent, convenient cold dispensed throughout the day. Bonus: dispensed amongst the same taps as the alcoholic drinks so it doesn't play second fiddle.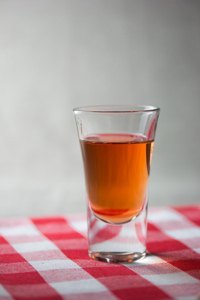 This liqueur is a great way to preserve the essence of strawberries so they can be enjoyed year-round in new and tasty ways. The perfect amount of orange zest unifies the tartness of rhubarb with the strawberries in this sweet liqueur which can be drizzled on vanilla ice cream, baked into cakes, pies or just enjoyed on its own. It's like strawberry rhubarb pie in a glass. Swirl it into an icy glass of soda water for a refreshing summer treat.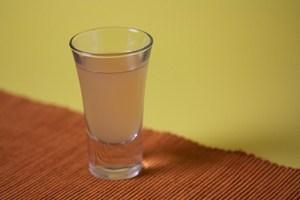 Psst! Want to have one of the best liqueurs ever? You can make it yourself! Warning: you won't be able to look at those other fake fruit essence vodkas the same again. It will scar you for life in this way but it's worth it. This Ruby Red Grapefruit Liqueur recipe is like a Greyhound that's been reduced into a liqueur. Like a greyhound, the subtle sweet, acid and bitter flavor profile plays seductively and mysteriously well with alcohol. When my friend and I made this drink, closely related to
limoncello
, we were so taken aback by it's drinkability that we were stunned no one had brought something like it to market. But who needs to now that you can make it? A shot of this liqueur mixed into a glass of ice cold soda water takes the heat right out of a hot summer day.
This Pear Liqueur recipe is refreshingly smooth and tastes similar to Eau De Vie or Lillet. It's even better in many ways because it's ridiculously easy to make and is extremely affordable. Use the sweetest organic pears you can get your hands on for best results. If your pears are very intensely sweet, like the ones from my back yard, you can skip the sugar. If you're going for store bought pears or moderately sweet pears, consider adding some sugar to enhance the pear flavor and tie it in with the vodka. I find it frustrating that the window of time of pear ripeness is so small. Once minute they're sweet like candy, the next minute they're mealy and heading for the compost bin. This liqueur is the best way I know of to capture their flavor when it's at its peak and preserve it almost indefinitely.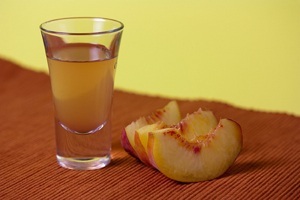 Every summer I savor sweet succulent peaches which is my favorite fruit. I often wonder how I could possibly preserve their bright, fresh flavors so I can enjoy them all year round. I've figured it out and the secret is this Peach Liqueur recipe. You can enjoy it in front of the fire on a cold winter night or on a hot summer afternoon mixed with some ice cold soda water. It's like biting into a fresh peach which is great either way.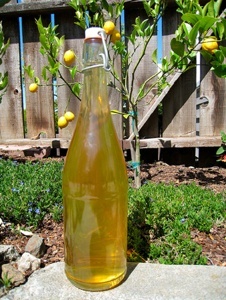 Popular in Italy, Limoncello is a lemon liqueur that's made by mixing lemon zest and sugar with a clean, distilled alcohol. It's amazing by itself, mixed with soda water, or drizzled over vegan vanilla ice cream. Unlike the traditional drink, this limoncello recipe is a little less sweet and syrupy and a little higher in alcohol and lemon flavor. I designed this Limoncello this way because I find traditional Italian Limoncellos to be too cloyingly sweet and syrupy to drink neat which is the way I prefer to drink liqueurs. This Limoncello is always a hit when it's brewed in larger batches, bottled into smaller bottles and given to friends at holiday gatherings.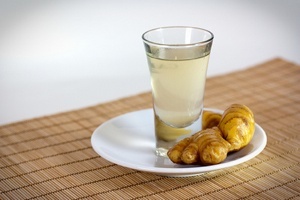 The great thing about this Ginger Liqueur recipe is that you can justify drinking it to warm you up during the dead of winter or to refresh you in that dreaded summer heat. This tastes similar to
Limoncello
but it's got the zing of ginger which compliments really well with a high quality, clean tasting vodka. Enjoy it by itself, mixed with soda water or drizzled over vegan ice cream.
7 results - showing 1 - 7