Warning
JLIB_APPLICATION_ERROR_COMPONENT_NOT_LOADING
10 results - showing 1 - 10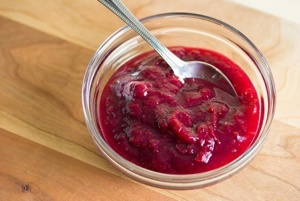 Cranberry sauce is one of the easiest, most foolproof sauces to make. You just throw a bunch of cranberries in a saucepan, cover it with some sugar, orange zest and, if you want to kick it up an extra notch, add some cinnamon or ginger. Let it simmer until the cranberries pop and then some, and you're mostly done.
The reality is that every Holiday season I'm slogging through preparing the food I'm planning to share, always biting off a little more than I can chew, so to speak. I get to a point of where I think I'm done with everything and wait, what?! The cranberry sauce? I forgot to make it! So it's back into the kitchen to bang it out.
I'm a huge fan of preparing large food projects in sections beforehand, then plugging them all together to make the final dishes as the feast approaches. I've found that this reduces Holiday cooking stress considerably. Last year this got me thinking: what if I could apply this trick to the cranberry sauce I'm always forgetting about? What if I could make it way in advance with even less overall time involved?
Pressure cooker
to the rescue. With the pressure cooker, I could make it a year ahead with the extra cranberries I had hanging around from
this
year, chuck it in the closet and forget about it until the end of
next
year. All with the same amount of effort it takes to make cranberry sauce a few days before the Holidays. No really.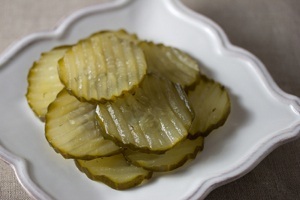 Few foods are as familiar as pickles. That crunch when you bite into them, bracing yourself before your senses get doused with a bright acid, savory and herbaceous cucumber tidal wave. it's unforgettable and infinitely satisfying. What is it that makes pickles so irresistible and how do you achieve it?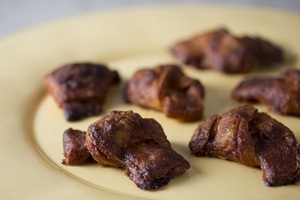 In the world of vegan protein it can often be difficult to find a food option that is easy to make, offers exceptional flavor and texture and is minimally processed. You can usually pick two of these options. And you can almost forget about finger food that fits this category. Try making tofu cubes, tempeh chunks or seitan strips appeal as hors d'oeuvres at a large party and you'll see what I mean. "What
is
this stuff?" Yuba knots are particularly interesting because they have the ability to be assembled into a freeform food while having a mixture of stringy, meaty and puff pastry characteristics, which keeps them from feeling too foreign.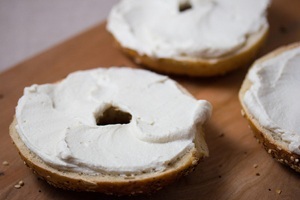 Every major metropolitan city has its famous food item that begs to be enjoyed in an almost infinite amount of circumstances. San Francisco has its Mission burritos, Chicago has deep dish pizza, Philadelphia has cheesesteak. One of my favorite things about living in New York City is enjoying the simplicity of a bagel with vegan cream cheese. It doesn't matter if you're getting ready to go out and in need of a quick meal, you're on your way home from the bar and need something to snack on, or it's a Sunday afternoon and you're just too lazy to do any cooking. A bagel and cream cheese always delivers.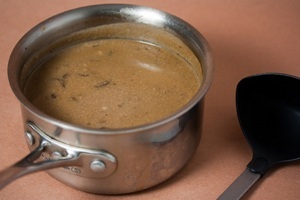 This Gracious Vegan Gravy recipe uses almost every trick in the book to develop rich, complex, savory flavors for a result that's sure to impress and surprise even the most diehard carnivores. First, both flour and nutritional yeast flakes are toasted, bringing out their nuttiness. Onions are then caramelized with mushrooms, breaking out layers and layers of savoriness. Miso and garlic are added later to add another dimension and tie it all together. Then the whole mixture is simmered so the flour gelatinizes and thickens the mixture. It's finished with pepper and a dash of white wine vinegar. A perfect way to top off a vegetarian feast centerpiece like
Stuffed Seitan
.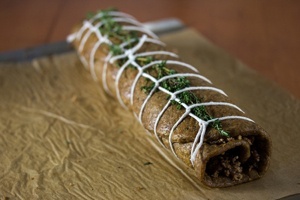 During the holidays of my youth I used to look forward to various animal-based table centerpieces that symbolized the crowning achievement of the feast. This high-protein, savory focal point would involve hours of anticipation, planning and boast a supporting role from several more simple, rustic freshly prepared vegetable dishes. As I became older and came to prefer a vegan diet, holiday meals consisted of me either avoiding the animal-based centerpiece or finding myself lucky enough to be in a situation where all of the dishes consisted of the rustic, vegetable-based fare.
I still miss the excitement and curiosity that goes along with a savory centerpiece: How tender will it be when I slice into it? What succulent surprises will I find? Oh and the aromas wafting thorugh the house! I wanted to bring this excitement to vegan holiday feasts when I set out to create Seitan Roulade.
Seitan Roulade consists of a sheet of wheat gluten covered with a panko mushroom stuffing that's been simmered in a red wine balsamic reduction. It's then wrapped into a roll, glazed with Apricot Glaze and sprigs of thyme are placed on top before the roulade is tied with twine. The roulade is then baked in a dutch oven, sliced, served and drizzled with a gravy such as
Gracious Gravy
. This is a similar centerpiece to
Stuffed Seitan
but is a little more involved because it involves glaze, and the use of a dutch oven. The dutch oven helps the roulade retain it's shape, stay moist and become infused with aroma from the thyme sprigs.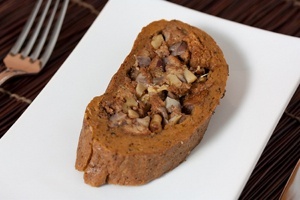 This Vegan Stuffed Seitan recipe is a holiday centerpiece consisting of savory seitan enveloping
Apple Walnut Stuffing
or any other stuffing of your choice. It's awesome for holiday vegan feast type dinners with
Gracious Gravy
drizzled on top and accompanied by
Cranberry Sauce
. I'm proud to serve this every year during Thanksgiving and again during Christmas dinner. The seitan casing utilizes ingredients like lentil puree, shoyu, marinara sauce, nutritional yeast flakes and a variety of spices to deliver a delectible savoriness that will satisfy vegans and omnis alike.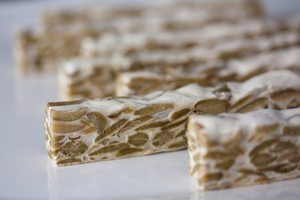 Tempeh is an Indonesian protein staple consisting of mashed soybeans fermented with a fungus called
Rhizopus olligosporus
. I purchased tempeh starter that includes this fungus from
Top Cultures
. This fungus thrives in a warm humid temperature combined with the nutrient rich soybeans and in about 24 hous grows a complex network of white mycelia that binds the soybeans into a dense mushroomy cake. This fermentation process looks simple on the surface but like most fermentation, it's what's going on behind the scenes that matters. Fermentation creates complex flavor compounds and partially breaks down the soybeans, which makes their nutrients more bioavailable and digestible. As the case with sauerkraut, natural probiotics are also produced that populate your lower intestines with beneficial microflora.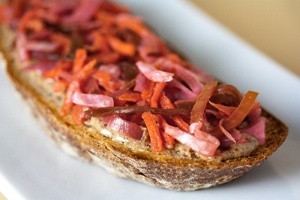 Years ago at Rainbow Grocery in San Francisco I got seriously addicted to an artisanal sauerkraut made by a company called
Cultured
. I jokingly referred to it as crack as it made it's way on top of my toast, tossed into my salads and stirred into my stews. When I introduced my friends to this amazing sauerkraut they too would promptly get addicted. I then moved to Brooklyn and sadly found that this sauerkraut was unavailable in my area. Soon after, I ended up reading
Wild Fermentation
by Sandor Ellix-Katz which had a recipe for sauerkraut. I figured I'd give it a go and I was rewarded by deliciously complex kraut that was laughably easy to make and unbelievably affordable. How did it take me this long to make homemade sauerkraut? And why wasn't this magic condiment more popular? Is it because no one knew how truly amazing it was?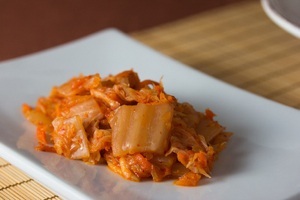 One of the most fascinating things about kimchi is how no other food on Earth has as much of a beloved following by its people. Russia is linked to its love for vodka, Germans spread their love of beer throughout the world in the late 1800s but the obsession of Korea with kimchi goes even deeper. After millions of dollars and years of research, South Korean scientists successfully developed kimchi to be brought to space by their first astronaut in 2008. Koreans like to say that where they go, kimchi goes too.
10 results - showing 1 - 10